Local Charities
<![if !vml]>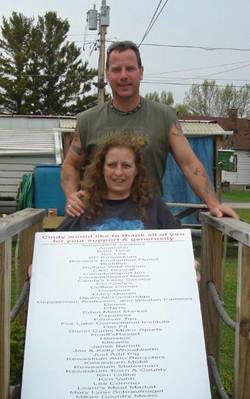 <![endif]>
NKM Crooked Trails Snowmobile Club held a benefit for Cindy Fellenz of Campbellsport. She suffered serious injuries in winter when she was outside in the bitter cold temperatures. The $6000 raised will assist her with medical and living expenses. The club would like to thank the area businesses who helped us raise the money by donating raffle items, food, and other items.
In early February 2011, members of the club were on an overnight snowmobile trip when they heard the news that nine girls from Cambellsport High School were involved in a deadly crash. As you can imagine with only hearing bits and pieces and knowing that some of us mostly likely would know some of the girls and their families, the weekend held a cloud over us. We would later learn that 2 died at the scene and a third one lost her life soon after. The club donated $50 to each of the nine families to help with their expenses.
Section 7:10 of our bylaws read:† Crooked Trails Foundation:† The Corporation is to set aside a minimum of 10% of its annual proceeds from all fundraisers for local charities and donations to other non-profit corporations.† The amount of the fund is to be determined from the prior year financial reports no later than the November meeting of the new year.† As club funds allow, the membership will allow a larger allocation to the Crooked Trails Foundation.
Although each year we make donations based on need, donations in the past have been made to:
<![if !supportLists]>v <![endif]>Multiple Sclerosis Society
<![if !supportLists]>v <![endif]>American Cancer Society
<![if !supportLists]>v <![endif]>Lymphoma and Leukemia Society
<![if !supportLists]>v <![endif]>Needy families in the area
<![if !supportLists]>v <![endif]>Christmas gifts to the Beachwood Nursing Home
<![if !supportLists]>v <![endif]>Other local snowmobile clubs
<![if !supportLists]>v <![endif]>Long Lake Youth Baseball team
<![if !supportLists]>v <![endif]>Lions Club in Dundee
<![if !supportLists]>v <![endif]>Sportsman Club in Dundee
<![if !supportLists]>v <![endif]>College scholarships for students at Campbellsport High School
<![if !supportLists]>v <![endif]>Long Lake Water Patrol for safety equipment
<![if !supportLists]>v <![endif]>Wisconsin Association of Snowmobile Clubs
<![if !supportLists]>v <![endif]>Fond du Lac Snowmobile Association
<![if !supportLists]>v <![endif]>Dundee Mill Park
<![if !supportLists]>v <![endif]>Sent needy child to camp for kids with disabilities
<![if !supportLists]>v <![endif]>Donation to teenager who lost father in a cycle accident
<![if !supportLists]>v <![endif]>Playground equipment to the Dundee Sportsmanís Park
<![if !supportLists]>v <![endif]>Playground equipment to the Campbellsportís Firemanís Park
<![if !supportLists]>v <![endif]>Donation to Mike Bord a cancer patient
<![if !supportLists]>v <![endif]>Donated two picnic tables to the Dundee Sportsmanís Park
v <![endif]>Vets Wall of Healing
<![if !supportLists]>v <![endif]>Kewaskum 911 Memorial
<![if !supportLists]>∑
We have also provided community support by doing the following:
<![if !supportLists]>v <![endif]>Volunteering members to both snowmobile and non-snowmobile fundraisers in other local clubs
<![if !supportLists]>v <![endif]>Volunteering members to help the local Dundee Mill Park
<![if !supportLists]>v <![endif]>Providing challenged kids with snowmobile rides
<![if !supportLists]>v <![endif]>Hosting a hospitality room at the AWSC workshops